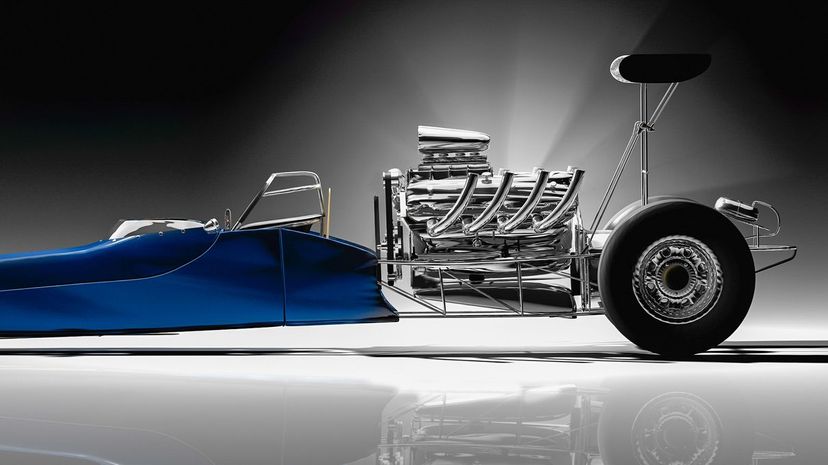 Image: Colin Anderson Productions pty ltd / Stockbyte / Getty Images
About This Quiz
They come in many different shapes, sizes and classes — from Top Fuel Dragsters to Nitro-burning Funny Cars — but the vehicles in the National Hot Rod Association (NHRA) have only one purpose: to burn down the track as fast as possible. No finesse or maneuvering — just raw power down the straightaway, competing against the racer beside you, the clock and the laws of physics. But how much do you know about this sport? This quiz will separate those who burn rubber from those who flame out.
There's something for every type of gearhead in the NHRA. The association has more than 200 classes, ranging from those just entering the field to seasoned professionals who push the boundaries in the sport. The matches are short compared to other sports — the top-performing vehicles can burn down the track in less than four seconds and reach speeds of 325 miles per hour — but the power and speed are thrilling to witness. Even those in the stands can feel the blast of vehicles jumping off the line to take the heat. Drag racing engages the senses of the fans, unlike almost any other competition. You hear the massive roar of the engines, you smell the rubber burning off the tires, you can feel the engines' power in your chest, and you witness men and women give it their all to hit the finish line first.
Are you ready to test your knowledge of this sport that has no equal? Then get your tires warm, pull up to the line, and wait for that green light. 3 ... 2 ...1... GO!
Colin Anderson Productions pty ltd / Stockbyte / Getty Images